This project was born out of a desire to express myself through a rich and committed universe. Beyond a short film or a feature film, the series format allowed me to create characters that we could follow on a daily basis and to which we could attach ourselves. I wanted to approach strong themes related to imprisonment whether family, religious, cultural, echoing personal events.
I started writing in the fall of 2016, and the first pictures were shot in May 2017 in Questembert with the first actress who agreed to shoot on the project, Marion LECHEVALLIER. I gathered technicians around me who would become the main 'actors' of this adventure and without whom this project would not have been born, Mariline, François and Nohanne who would join us a little later. They all volunteered and gave of their time.
Prisoner is a project that is inspired by reality and that fits in with reality. For example, we filmed in a demonstration in Warsaw, Poland, during which the actors had to play their own role. I was very inspired by the actors in the creation of the characters.
The particularity of this project is the improvisation work with the actors. A skeleton has been written, sometimes some dialogues as well and the actors are inspired to play and improvise. We rehearse for several hours to arrive at a text and then we shoot. Usually with two cameras to be able to capture all the movements of the actors.
We have been running this project since May 2017 under different conditions depending on the city, the teams and the production. The team can be reduced and can also reach about 50 people as needed.
Team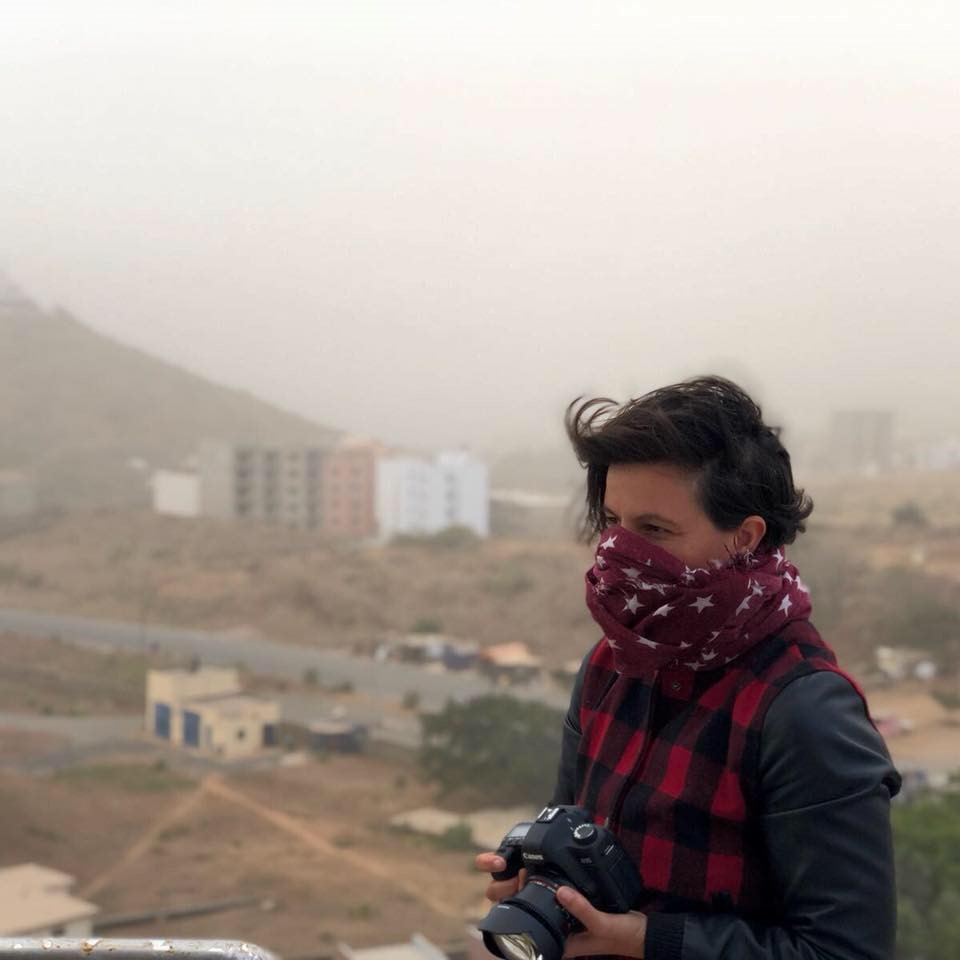 Director: Ingrid FRANCHI
Born in Marseille, self-taught, I am a director and screenwriter. When I was 18, I directed my first short film, In Humain, which received two awards, including Best Film by a Young Director at the Video and Cinema Festival. My short film, L'Abaya, shot on film between Ouarzazate and Paris, has been shown multiple times in national and international festivals.
I learned my trade on set as an assistant director, stage manager, assistant camera and in books. I work a lot around the theme of the rights of women, the oppressed and children. I shot portraits of migrants for the Red Cross and my last humanitarian film was shot in an orphanage in Nepal on the outskirts of Kathmandu.
In 2018, I directed Road to Fight for Sfr Sport, a program presented by Lucie BERTAUD and produced by Punch prod. A 26-minute monthly portrait of a high-level athlete who has taken me to travel to many countries (USA, Thailand, Senegal) and to the four corners of France.
I directed the French part of Trainstation, multiple times selected and awarded at international festivals and a series A billion to one, awarded and broadcasted on Amazon Prime US. Two projects produced in collaboration with a group of independent filmmakers from Detroit.
Currently on the post production of the series PRISONER selected and awarded in twenty festivals, I am working on the development of a feature film and a documentary.
Main chief operator: François WELTERLIN
Secondary chiefs operators: Bastien BRUERE//Alban COUSINIE//Ingrid FRANCHI//Benjamin LE MEUR//Edward SCOTT
Camera A: Ingrid FRANCHI
Main camera B: Mariline LAGNEAU
Secondary camera B: Bastien BRUERE//Alban COUSINIE//Alexane DOUZET//Benjamin LE MEUR//Nicolas TOUINT
Camera assistant: Louise COUSINIE//Raphaël GAUTIER//Benjamin TRAISSARD
Steadicam : Sillas SAMBA
Electro : Jérémy BOUYER//Fabien DUCHAMP//Baptiste NOHARET//Stéphanie PONTHUS//Vincent MIAILLE
Machinists : Paul BERTEAUD//Nathan JAEGLE
First director assistants: Maira BROGNIART//Lucine DORSO//Rac Lesné//Nohanne//Marie JANTET//Amélie ROCHARD//Clémence SOLAR//Tom MILCENT//Sandy SEVENNE  
Second and third director assistants: Flavien CARON//Laurine DESCHAMPS//Arthur GLAIN//Aristéa LINAKIS//Lisa QUILICCI//Kenya TERRISSE
Scripts: Louise BRIDE//Damien MATEY//Coline LAFONT//Coline LEBRUN//Aude SEYROUX//Line VIARDOT
Sound engineers: Mateusz ANDRZEJEWSKI//Tom BEAUSEIGNEUR//Cesar BOUCHETON//Pierre CARLIER//Pierre COURTY//Juliette DAUGE//Léo DESNOYELLES//Emilie FANTIN//Guillaume FARKAS//Leslie GABORIEAU//Alyssa GOUCHENE//Mathieu IMBERTY//Nicolas IVASIC//Benjamin JOLIVET//Adèle LEGOFF//Loick LELARGE//Thomas NICOLAS//Louis SIMON//Marie TANG
Make-up: Maxime BERRO//Marilou BRUN//Camille BROSSARD//Alexia DELMAS//Alexandra FEIGNANT//Sarah HAMON// Coline VEY
Costumes: Roxane DERAY
Dressers : Sarah HAMON//Laita JEHANNE//Constantin VIALLE
Decorators : Anaya//Mélissa ANTOYE//Benoit DAGORNE//Rémi GARMIER//Tao GASSIN//Jean-Joel GBAYORO//Noé GIRERD//Michel GIRERD//Sam KAMAILY// Juliette LEDUC-ALARI//Perrine MOTTEZ//Eleonore THOMAS-LEPIGEON//Robin//Alice PASSALACQUA
Many thanks to Cynthia HERNOUT and her chief Christophe.
Stage managers: Véronique BOILLOT//Valentin CERVANTES//Maeva CHAZALON//Julie CHRETIEN//Laetitia DESMURS//Florian DURANT//Klémentine FRANCERIES//Aziliz JOUAN//Théo JOUVE//Mathis GUILLET//Florence HUGUET//Laure HALLOT//Geoffrey LEPICIER///Jean LOIR//Dimitri MATHIEU//Wilhelm MARTIN//Arthur MEURISSE//Vincent MIAILLE//Marianne NEDELEC//Remy PASQUIER//Joris PELLECUER//Simon PICARD//Galaad PICARD//Maxime PAINDESTRE///Emily THOMAS//Benjamin TRAISSARD//Valentin TRUCHET//Piotr WILHELMI
Stage manager trainee: Marie HELMLINGER
Sutlers: Amandine BOUMARD//Loic COLONGO//Anne GAUTIER//Elise FORGET//Thierry LEROUX//Eloine THEVENET FOUILLOUX
Photographs: Appoline ALLESANDRINI//Gilles BADER//Mathéo BAUMGARD//Alexis CABIROL///Titouan DENIAUD//Roberto DI MOLA//La Grande Faucheuse//Raphaël KAUFFMAN//David LAIR//Maina LOAT//Barbara MAUD///Marie MERCIER//Denis PLOTNIKOV//Piotr WILHELMI
Making of: Nohanne//Théo KERJOANT//Benjamin LEMEUR//François MESSAGE//Anne Lise METAIS//Tom MILCENT//Nicolas TOUINT//Elian VILLAIN
Child actor coach: Nohanne